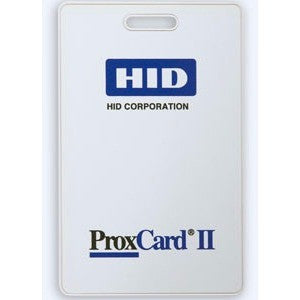 HID C1326KSF Access ID Card (25) - Kantech Coded
ProxCard II Information: ( Kantech Security Formatted)
The HID C1326KSF Kantech coded ProxCard II is a powerful RF-programmable clamshell proximity access card offering universal compatibility with all HID proximity readers. Boasting a durable clamshell construction and low cost-per-card, HID C1326KSF is the value-priced access control card used by industry and facilities worldwide.
HID C1326KSF ProxCard II Quick Facts:
Universal compatibility with all HID proximity readers.
Durable packaging and consistent read range.
External number printed on ProxCard for easy identification and control.
Supports formats up to 85 bits, with over 137 billion codes.

Up to 24" read range

HID C1326KSF Proxcard II Labels

 

allows for on-site photo ID using most direct image printers to create a photo ID Prox Card.
Thin enough to carry in a wallet or purse.
Custom pre-printed artwork also available.
 Dimensions: 2.125" x 3.375" x 0.070" (5.40 x 8.57 x 0.18 cm)
HID Readers typically used on Centaur, Kantech, Kery, Cardac and Software House Access Control Systems
---
We Also Recommend
---