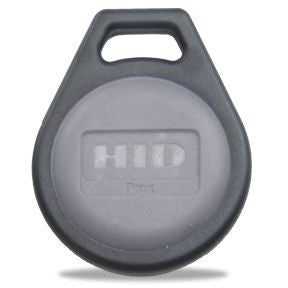 HID ProxKey III Proximity access keyfob , 26-bit Wiegand fob
Model # 1326LSSMV-110249
Product Overview
THE RF-PROGRAMMABLE PROXCARD® II PROXIMITY ACCESS CARD IS THE INDUSTRY CHOICE FOR A COSTEFFECTIVE SOLUTION TO PROXIMITY ACCESS CONTROL.
Proven, Reliable Technology

 

- Offers extremely consistent read range. Unaffected by body shielding or variable environmental conditions, even when close to keys and coins.
Convenient To Use

 

- Can fit into a wallet or purse. Use with a strap and clip as a photo ID badge.
Cross-reference

 

- A cross-reference list correlating the external card number and the programmed ID number is provided for easy system administration.
Security

 

- Offers over 137 billion unique codes.
Long Life

 

- Passive, no-battery design allows for an infinite number of reads.
Durability

 

- Strong, flexible and resistant to cracking and breaking.
Companion Products- 1321 Photo pouch overlay 1324 PVC Direct print overlay
The RF-programmable ProxCard® II proximity access card is the industry choice for a cost-effective solution to proximity access control.
Main Features
Offers universal compatibility with all HID proximity readers.
Provides durable packaging and consistent read range.
Provides an external number for easy identification and control.
Supports formats up to 85 bits, with over 137 billion codes.
Custom pre-printed artwork available.
A PVC overlay allows for on-site photo ID using most direct image printers.
---
We Also Recommend
---